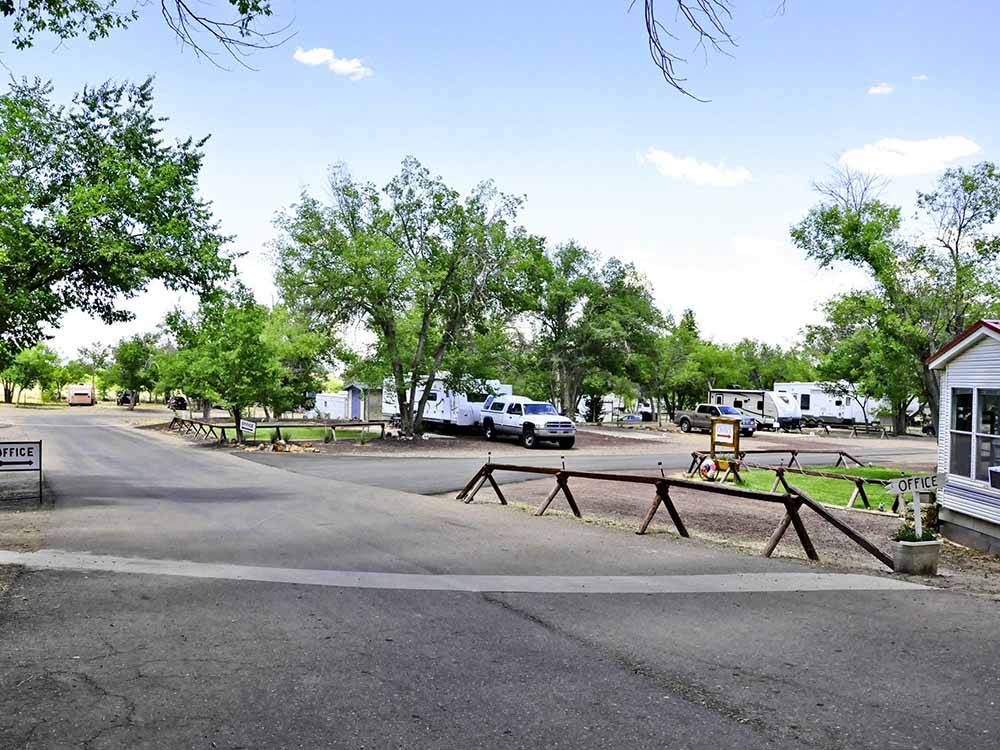 St Johns RV Resort
COVID-19 Campground Visitor Update
We are open to overnight RVers! Please call (928) 358-7123 for reservations, possible restrictions and our most up-to-date information.
Elevation
5,815 ft (1772.412 m)
Facility
Policies
Folding Tent Campers Allowed
Pets Welcome
Tent Camping Allowed
Sites
Total Spaces (140)
Spaces Available (70)
Width (40)
Max Length (90)
Gravel Sites (70)
30 Amp
50 Amp
Seasonal Sites
Shaded (Some)
Big Rig Sites
Full Hookups (70)
Max Amps (50)
Pull-thrus (3)
Pull-thru Size (40 x 90)
Back-ins (40 x 90)
Room for Slideouts (Yes)
Site Length (90)
Patios
Table at Site
Tent-Only Sites (12)
RV Park Model Rentals (8)
Tenting
Dedicated Tenting Area
Covered Area w/Picnic Table
Internet
WiFi at Overnite Sites
WiFi at Park
WiFi at Park Supports Mobile Devices
2 Devices supported per Overnite Site
40 Sites with WiFi
Other Amenities & Services
Road Condition (Good)
Road Type (Paved)
Restroom and Showers
Laundry
Self-Service RV Wash
Onsite Rentals (8)
Enclosed Dog Run
Restrooms
Recreational Facilities
Horseshoes
Planned Activities
Recreation Nearby (within 10 miles)
ATV Riding
Fishing
Hiking
Boating
Kayaking/Canoeing
Mountain Biking
Snow Sports
Hunting Nearby (within 20 miles)
Discounts
How to Read Good Sam Directory Ratings
The three-number rating that accompanies each campground listing in the directory gives readers an at-a-glance assessment of a campground's amenities, cleanliness and environment.
How to read the Good Sam Rating 10/10 /10.
All three ratings categories are measured on a scale of 1 to 10, with 10 being the best.Less than 1 percent of parks or campgrounds receive the coveted 10 / 10 / 10 rating, which indicates superior facilities that are well maintained, clean, well-appointed restrooms and a highly appealing appearance.Campgrounds are inspected annually by dedicated RVers like you.
Completeness of facilities
10 / 10 / 10
The first campground rating evaluates completeness and quality of facilities.In this category we rate interior roads, sites, registration area, hookups, recreation, swimming, security, laundry, store and building maintenance.
Cleanliness and physical characteristics of restrooms and showers
10 / 10 / 10
The second rating category concerns the cleanliness and physical characteristics of toilets, walls, showers, sinks/counters/mirrors and floor. If a park achieves a full point in each of the above, it receives a star (), indicating exceptionally clean restrooms.
Also rated are physical characteristics of restrooms, including interior construction, adequate supplies/odor free, adequate number of facilities, exterior appearance and location in relation to park spaces, and interior appearance.
Visual Appeal and Environmental Quality
10 / 10 / 10
This category addresses the park's setting and site layout, function and identification of signage, overall exterior building maintenance, noise, trash disposal, litter and debris around the grounds and sites, and appearance of grounds, sites and entrance area.
Directions
From jct US-180 & US-191: Go 1 mi S on US-191/White Mtn Dr, then 1-1/2 mi W on 7th St S (R)