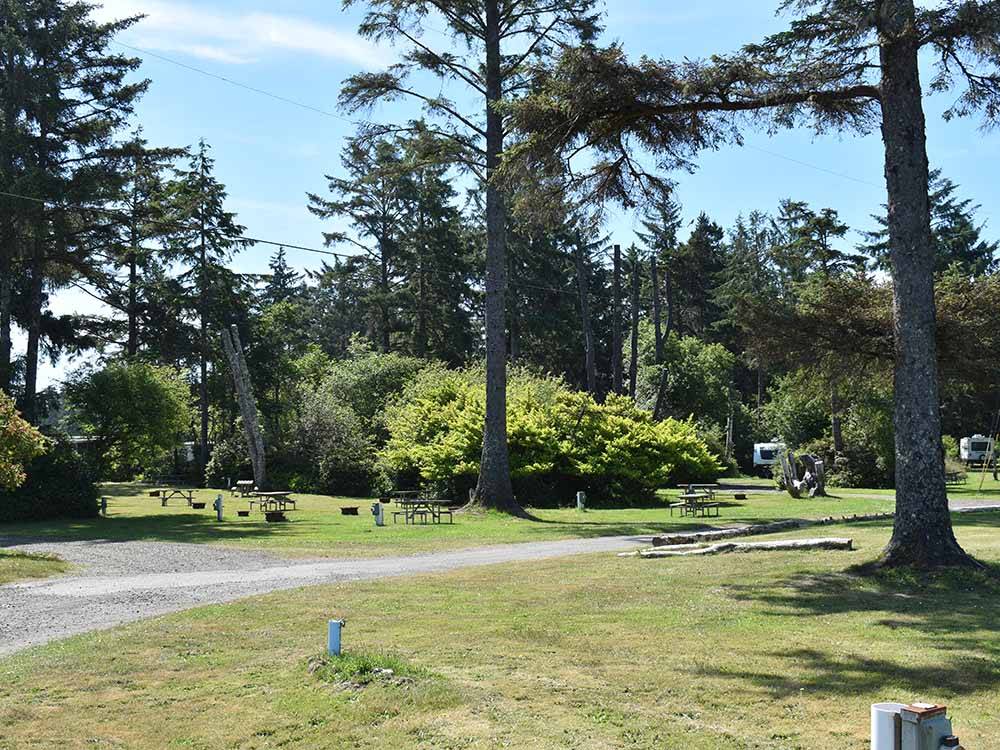 Ocean Park Resort
Mailing Address:
PO Box 339
Ocean Park, WA 98640
Card(s) Accepted




Facility
Type (Campground)
Emergency Phone
Policies
Folding Tent Campers Allowed
Pets Welcome
Pet Restrictions
Pet Restriction on Breed
Tent Camping Allowed
Sites
Total Spaces (100)
Spaces Available (70)
Width (28)
Max Length (60)
Grass Sites (70)
30 Amp
Seasonal Sites
Shaded (Some)
Full Hookups (70)
Max Amps (30)
Pull-thrus (23)
Pull-thru Size (28 x 60)
Back-ins (28 x 50)
Room for Slideouts (Yes)
Site Length (60)
Table at Site
Tent-Only Sites (13)
Tenting
Internet
WiFi at Overnite Sites
WiFi at Park
WiFi at Park Supports Mobile Devices
2 Devices supported per Overnite Site
70 Sites with WiFi
Other Amenities & Services
Road Condition (Fair)
Road Type (Paved/Gravel)
Restroom and Showers
Restroom/Showers ($)
Laundry
Metered LP Gas
Firewood
Escort to Site
Onsite RV Service
Fishing Guides
Onsite Rentals (12)
Restrooms
Restrooms $
Recreational Facilities
Rec Hall
Playground
Outdoor Games
Recreation Nearby (within 10 miles)
Boating
Fishing
Watersports
Discounts
On-Site Rentals
Motel rooms, fully furnished, 8 with kitchens and 4 with kitchenettes, within walking distance to stores and restaurants.
Lodge Rooms
12 Rentals Available
Sleeps 6
Daily Rate $79.00 - $201.00
Full Bathrooms
Full Kitchen
Pets Allowed $
Linens Available
How to Read Good Sam Directory Ratings
The three-number rating that accompanies each campground listing in the directory gives readers an at-a-glance assessment of a campground's amenities, cleanliness and environment.
How to read the Good Sam Rating 10/10 /10.
All three ratings categories are measured on a scale of 1 to 10, with 10 being the best.Less than 1 percent of parks or campgrounds receive the coveted 10 / 10 / 10 rating, which indicates superior facilities that are well maintained, clean, well-appointed restrooms and a highly appealing appearance.Campgrounds are inspected annually by dedicated RVers like you.
Completeness of facilities
10 / 10 / 10
The first campground rating evaluates completeness and quality of facilities.In this category we rate interior roads, sites, registration area, hookups, recreation, swimming, security, laundry, store and building maintenance.
Cleanliness and physical characteristics of restrooms and showers
10 / 10 / 10
The second rating category concerns the cleanliness and physical characteristics of toilets, walls, showers, sinks/counters/mirrors and floor. If a park achieves a full point in each of the above, it receives a star (), indicating exceptionally clean restrooms.
Also rated are physical characteristics of restrooms, including interior construction, adequate supplies/odor free, adequate number of facilities, exterior appearance and location in relation to park spaces, and interior appearance.
Visual Appeal and Environmental Quality
10 / 10 / 10
This category addresses the park's setting and site layout, function and identification of signage, overall exterior building maintenance, noise, trash disposal, litter and debris around the grounds and sites, and appearance of grounds, sites and entrance area.
TOP DEALS & DESTINATIONS

PACK & STAY RENTALS
Stay & Play In Washington's Ocean Park
Located in the heart of historic Ocean Park & 6 blocks from our sandy beach stretching 28 miles, our quaint motel rooms offer all the comforts of home in this beach-lover's paradise! Family fun for all!
---

ATTRACTIONS & ENTERTAINMENT
Come and Explore This One of Kind Area
For memorable family activities, spanning beautiful scenery, historic landmarks, walking trails, natural habitat, seafood that can't get any fresher, music festivals or events every weekend of the year! Welcome to Ocean Park!
---
ECO-FRIENDLY PARK

LEARN MORE
What Makes this Park Eco Friendly?
Good Sam recognizes Parks that are implementing "green" practices. If a park complies with 3 or more items from the following list, a special green designation will show in their listing
Non-Toxic Cleaning Products
Natural Pest Control (most of the time)
Minimized the use of Styrofoam and significantly reduce the use of plastic.
Landscape managers use appropriate irrigation systems and drought tolerant and indigenous plants
Recycling cans for the RVers
Changed light bulbs to compact fluorescent lights (CFLs)
Insulated water heaters
Lowered pool temperatures
Installed photocells (solar)
Use more fuel efficient vehicles
Instead of golf carts, implemented a strategy of encouraging the use of bikes and trikes
Tankless Water Heaters
Composting
Directions
From Jct of US-101 & WA-103/Pacific Way (in Seaview): Go 11 mi N on WA-103/Pacific Way to 259th Pl, then 3 blocks E (R).