Find a Campground
Change search criteria
We found

1 Result

for "chicago, IL"
CAMPGROUND ARTICLES
Welcome to Illinois
For many visitors, Illinois may be synonymous with Chicago's renowned museums, deep-dish pizza and big-city luxuries – but that's not all the Prairie State has to offer. From road tripping along... Continue Reading
Route 66 in the Land of Lincoln
Keep your eyes peeled for the iconic Route 66 signs on this trip along the so-called Mother Road, from the bustling town of Chicago to the state capital of Springfield. Although the iconic highway has been in many... Continue Reading
Spotlight: Springfield
Ready to visit the Land of Lincoln, the capital city of Springfield invites you to explore the story behind one of America's most revered presidents. The Abraham Lincoln Presidential Library and Museum is chock full of exhibits that illustrate the life and work of the 16th president, from his days as a store clerk to statesman to the leader of a nation in turmoil.... Continue Reading
Campgrounds and RV Parks Search Results
We found

1 Result

for "chicago, IL"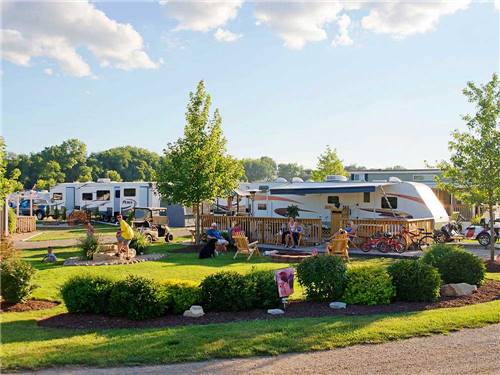 O'Connell's Yogi Bear Park
Amboy, IL




FAMILY FUN IN SAUK VALLEY
Grab your bathing suit & bring the family to our water park! Let the kids play in our arcade - we have the most games of any campground in or around Illinois Award winning themed activity program geared to all ages.
Facility


8.5

Restrooms


8

Appeal


8.5
×
How to Read Good Sam Directory Ratings
The three-number rating that accompanies each campground listing in the directory gives readers an at-a-glance assessment of a campground's amenities, cleanliness and environment.
How to read the Good Sam Rating 10/10 /10.
All three ratings categories are measured on a scale of 1 to 10, with 10 being the best.Less than 1 percent of parks or campgrounds receive the coveted 10 / 10 / 10 rating, which indicates superior facilities that are well maintained, clean, well-appointed restrooms and a highly appealing appearance.Campgrounds are inspected annually by dedicated RVers like you.
Completeness of facilities
10 / 10 / 10
The first campground rating evaluates completeness and quality of facilities.In this category we rate interior roads, sites, registration area, hookups, recreation, swimming, security, laundry, store and building maintenance.
Cleanliness and physical characteristics of restrooms and showers
10 / 10 / 10
The second rating category concerns the cleanliness and physical characteristics of toilets, walls, showers, sinks/counters/mirrors and floor. If a park achieves a full point in each of the above, it receives a star (), indicating exceptionally clean restrooms.
Also rated are physical characteristics of restrooms, including interior construction, adequate supplies/odor free, adequate number of facilities, exterior appearance and location in relation to park spaces, and interior appearance.
Visual Appeal and Environmental Quality
10 / 10 / 10
This category addresses the park's setting and site layout, function and identification of signage, overall exterior building maintenance, noise, trash disposal, litter and debris around the grounds and sites, and appearance of grounds, sites and entrance area.